By Wyatt Earp | February 24, 2010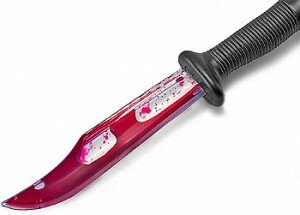 Dear Philadelphia scumbags, it has come to my attention that some of you think you can stab a Philadelphia police officer and get away with it unscathed. Now while this may have been the case in previous years, the recent string of officer killings we have experienced has changed that line of thinking. In short, those days are gone forever.
Nowadays, if you are going to attack a police officer with a knife, you are going to get hurt. Badly. Take this as another example of "the militarization of the police" if you will, but most of us want to go home to our families. Luckily, Officer Leon Campbell was able to do so.
A police officer called to a North Philadelphia house yesterday afternoon, was stabbed in the hand and arm by a woman who then was shot and critically wounded by another officer, police said.

The woman, who was not immediately identified, was in critical but stable condition at the same hospital, Vanore said.

Officers responding to a report of a domestic disturbance at a house on Montgomery Avenue near 25th Street about 4:45 p.m. had tried to stop the woman with a Taser but the device was "not effective," Vanore said. He said the woman had broken into the house and assaulted family members.

When police tried to remove the woman from the house, she resisted and pulled the knife, lunging at Campbell. She was shot by a backup officer whose name wasn't immediately released. Vanore said the woman's name would be released when charges were filed.
It is interesting to note that the officers tried to restrain her, then used the Taser – which was ineffective – then only fired after the woman shot the officer two times. But hey, I guess we're still an occupying army, right? Personally, I think this Sean Connery quote from The Untouchables pretty much sums up this story:
"They pull a knife, you pull a gun. He sends one of yours to the hospital, you send one of his to the morgue. That's the Chicago Philadelphia way!"
Topics: The Job | 21 Comments »