By Wyatt Earp | December 10, 2009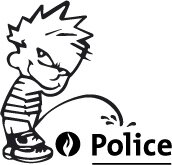 Just be super and wipe the trooper.
One of the best things about my job is dealing with drunks. They are rarely, if ever, not entertaining. Sometimes, however, a DUI arrest goes bad. It went especially bad in Sheboygan, Wisconsin recently.
.
SHEBOYGAN, Wis. – A Waldo man accused of urinating on a police officer during his fifth drunken-driving arrest has been sentenced to a year in jail. Court records released Wednesday show 36-year-old Daniel L. Shilts Jr. of Waldo was also fined about $3,600 and had his driver's license revoked for three years.

The Sheboygan Press said according to the criminal complaint, Shilts was pulled over in November 2008 in Plymouth after an officer saw his vehicle hit a pole at a gas station.

The complaint said Shilts failed field-sobriety tests. It said as he was taken to the police station he urinated in the back of the squad car, spraying the back of the officer's head.
And that, dear readers, is why we should always wear our hats!
Topics: The Job | 12 Comments »