By Wyatt Earp | November 26, 2009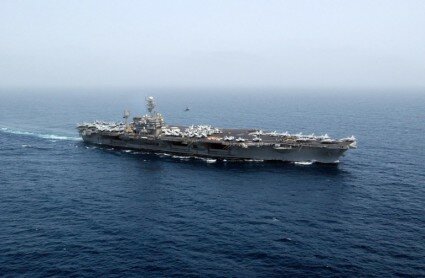 Psst! Hey buddy, ya wanna own an aircraft carrier? Cheap?
The USS John F. Kennedy, which is currently docked in Philadelphia, is now available as a donation from the Navy. But not just anyone can take the keys and sail it down the Delaware.

By law, it can go only to a state or local governmental entity, or a nonprofit. It must be turned into a memorial or museum. And whoever gets it must pay for towing.

A Boston city councilman has expressed interest in bringing the 1,052-foot-long vessel to Massachusetts, the Kennedy family's home state. Philadelphia seems an unlikely destination, though it would be cool to have.

Douglas Oliver, Mayor Nutter's spokesman, did not have an immediate comment about whether the city would be interested in taking the warship, which entered service in 1968 and was decommissioned in 2007. (H/T – Philly.com)
Of course the city will not express an interest. Why would we make an effort to create a first-class riverfront when Camden, New Jersey – yes, CAMDEN! – outshines my hometown by leaps and bounds?
Topics: Coolness! | 13 Comments »