By Wyatt Earp | October 13, 2009

In case you have been living under Rosie O'Donnell for the past nine months, the Obama worship is still going strong. Sadly, the glorification has spread from the president to the First Harpy, and money-grubbing evil capitalists are cashing in. Oh wait, liberal capitalists are fine. Conservative capitalists? Not so much.
The newest hero worship comes to us in the form of the Michelle Obama action figure. Seriously:
The White House said it had no comment Monday in response to the upcoming release of a new Michelle Obama action-figure doll.

The 6-inch doll is made by New York toymaker Jailbreak Toys and is set for release on November 20, but the company began work on the new product six or seven months ago, according to Jason Feinberg, Jailbreak Toys' 32-year-old founder.

"The entire political scene was a little rosier at the time," Feinberg said in a phone interview, "But what was really apparent was the country, and really the world at large, were very enamored of this lady."

Feinberg, whose company began selling a Barack Obama action-figure doll in mid-2008, said that Michelle Obama's "energy" was "muted, subdued, classy" coming out of last year's campaign while her husband's image was much more like that of a superhero. (H/T – CNN)
The country was enamored of this lady? I think Mr. Feinberg is inhaling the plastic fumes. And Michelle Obama is a lot of things, but "muted" is certainly not one of them. Unless, of course, if you think about all of those years when she was ashamed of her country.
I have to wonder, though, if this is the photo being used for the action figure packaging?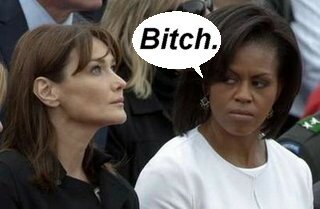 Oh yeah, I see "subdued classy" coming out of this broad.
Topics: Duct Tape Advisory | 13 Comments »