By Wyatt Earp | October 4, 2009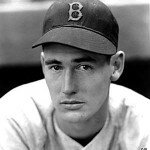 Remember the story about how Boston Red Sox great Ted Williams had his corpse frozen? Yeah, well that is true.
What also may or may not be true – I sure hope it's not – is that employees of the cryonics lab where Williams is housed beheaded the Hall of Famer and mutilated his corpse.
What. The. Frak???
A book scheduled for release next week allegedly describes how workers at a cryonics facility, Alcor Life Extension Foundation, mutilated the frozen head of baseball legend Ted Williams.

Written by Larry Johnson, a former Alcor executive, "Frozen" details how technicians beheaded Ted Williams and batted his frozen head with a monkey wrench.

Johnson writes that holes were drilled in Williams' severed head for the insertion of microphones, then frozen in liquid nitrogen while Alcor employees recorded the sounds of Williams' brain cracking 16 times as temperatures dropped to -321 degrees Fahrenheit.

Johnson writes that the head was balanced on an empty can of Bumble Bee tuna to keep it from sticking to the bottom of its case. (H/T – Interested-Participant)
If this is true, it is my sincere hope that these savages are found, charged, and imprisoned for life. I cannot imagine what the Williams family must be going through after hearing about this. Simply despicable.
Topics: WTF? | 8 Comments »