By Wyatt Earp | October 29, 2009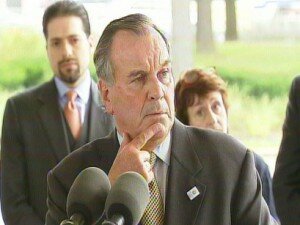 Hey, you know what would be a great idea? If a large, crime-infested metropolis decided to balance the budget on the backs of city workers, including police officers and firemen. That's what Chicago is planning to do. Then-Philadelphia Mayor Ed Rendell did that in 1994, and it worked for him. That fat bastard was elected governor of Pennsylvania. Twice!
Chicago wants to force their police officers and firefighters to take 24 days off – without pay – every year. Brilliant!
One of the more controversial pieces of Mayor Daley's 2010 budget is the requirement for all city workers to take 24 unpaid furlough days.

The only city workers who have been spared from what amounts to an entire month off without pay are the city's police and firefighters. But that could change.

A representative for the city budget office says the city is in negotiations with police and fire unions to accept furlough days. It would mark the first time in Chicago that police and firefighters were forced to go without work. (H/T – NBC Chicago)
Knucklehead Philadelphia Police Commissioner Charles Ramsey would like to see this police implemented here in Philly. Like Chicago, I think it would be a disaster, with absolutely no upside. Morale would plummet, manpower would be decimated, and emergency response could take hours instead of minutes. The policy would almost surely cost some citizens their lives – not that any politician would give a damn.
Me? I would live up a furlough if it was installed here. When the city started burning and the bullets began flying, I would ignore the phone calls from work, shrug my shoulders, and go back to playing PlayStation 3. Cold? Yes, but to be honest, morale in my department hit rock bottom the day Ramsey arrived.
Topics: The Job | 13 Comments »