By Wyatt Earp | August 14, 2009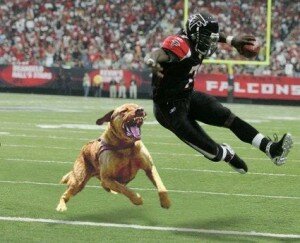 Bawahahahahahahaha! Thank God I hate the Eagles – and most Eagles fans – otherwise, I would be pretty pissed off right now.
Michael Vick is back in the NFL, landing a job with the Philadelphia Eagles.
Come on, let's hear it from all of you Stepford Eagles fans out there. Tell me how this is a great move. Bawahahahahahahaha!
"He signed with the Eagles," agent Joel Segal told The Associated Press in a telephone interview Thursday. He said it was a two-year deal.

Vick, once the NFL's highest-paid player, has not played since 2006. The former Atlanta Falcons quarterback was convicted in August 2007 of conspiracy and running a dogfighting operation, and served 18 of a 23-month sentence in federal prison. He also was suspended indefinitely by the NFL. (H/T – CBS3)
It's good to know that the Eagles want to be just like the Cincinnati Bengals – a team chock full o' thugs. I hope they lose every game this year.
"West Siiiiide!"
Topics: Evil = Funny | 20 Comments »