By Wyatt Earp | June 16, 2009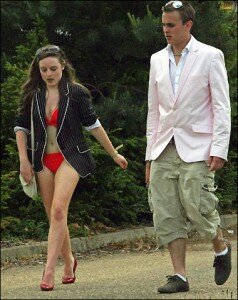 Of course, if theme days link Bikini and Blazer Day can catch on here in the States, maybe those Cambridge lads aren't so dumb after all.
A drunken Cambridge University student staggers home after a wild party – dubbed Suicide Sunday – ended with revelers collapsing and throwing up.

Passers-by were shocked and disgusted after a notorious end-of-exams party lived up to its reputation with students binge drinking.
Good Lord, it's like one of my golf outings!
The party saw bikini-clad students struggling to stand up and vomiting at midday on a Sunday afternoon.

The party was organised by the Wyverns – an all-male Magdalene College drinking society. (H/T – The Sun)
Lovely. Look, I am all for some good, clean fun. I am also for some good, not-so-clean fun on occasion. But when some trollop (Yes, trollop) gets so plastered that she passes out in the quad, that usually means the party's over: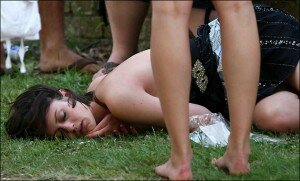 You couldn't tell by this photo, but that's actually DragonLady!
Heh, heh, I'm going to Hell.
Topics: Al-key-hol, Babes, Snarkasm | 8 Comments »