By Wyatt Earp | April 28, 2009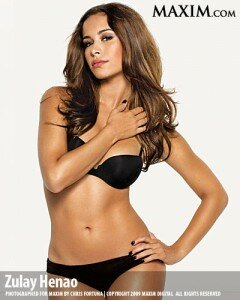 What kind of name is "Zulay," anyhow? That's worse than Sssteve!
Colombian beauty Zulay Henao may be the star of the new underground brawling flick "Fighting" and a former army solider, but this stunner is hardly the violent type.

"The only real fight I've ever been in was when I was 14, and it involved people bullying my younger sister," Henao admits. "I remember her coming home crying, so I was like, 'Come on, let's go get them!' My family is my soft spot, and whenever they're in some kind of trouble, I'm there."

But don't let her lack of fighting experience fool you – as the sexy starlet has a military background and could probably kick your butt.

"I went into the army right after high school, and the first day of basic training was really hard. I quickly realized I'd have to change my attitude if I was going to get through it." (H/T – FOXNews)
Hard enough to kick in my skull, but soft enough to lie in bed all day.

Wyatt likey!
Topics: Babes | 3 Comments »