By Wyatt Earp | April 30, 2009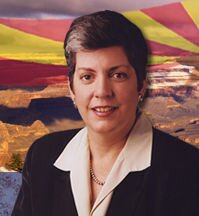 You know, I almost feel sorry for Homeland Security Disgrace Director Janet Napolitano. She is so completely out of her league in that position that it isn't even funny.
Okay, it is funny, but not "Ha, ha" funny.
For someone who used to be the governor of Arizona, this broad has absolutely ZERO clue as to what goes on at the Mexican border. In her "Pay no attention to the man behind the border" fantasy world, the swine flu pandemic is no more dangerous than hay fever. This inexcusable attitude leads her to say the most moronic things . . . before taking them back soon afterward.
WASHINGTON – Homeland Security Secretary Janet Napolitano is asserting that the description she initially gave of the border swine-flu monitoring effort no longer applies.

Appearing Wednesday before a Senate panel, Napolitano said that "passive surveillance" is "not an accurate picture of what is going on" at U.S. entry points. She had used that term Tuesday morning to describe the nature of the monitoring for illness.
So basically, she realized that she frakked up – or, more likely, someone else told her – and now she is backpedaling like Rosie O'Donnell at a salad bar.
On Wednesday, Napolitano said that U.S. officials are "actively" questioning visitors at the border, asking questions about "whether they are ill, their travel history and the like."

She also discounted turning to thermal meters to gauge whether people are carrying a fever, and Napolitano also said she does not believe the facts of the current situation would merit closing the borders. ()
Oh yeah, instead of closing the borders, we should just ask people if they are ill. That will be so much more effective. I mean, no one coming into this country from Mexico has any reason to lie.
Jackass.
Topics: Snarkasm | 8 Comments »