By Wyatt Earp | February 15, 2009
Apparently, the civil servants were "forced" to spy for China after being caught visiting "hostess bars."
TAIPEI – Four Taiwan civil servants filmed visiting hostess bars in neighboring China have been blackmailed into becoming spies for Beijing, the government of the self-ruled island said Thursday.
Hostess bars? Is that the Chinese equivalent of "massage parlors?" Maybe that is the original "washy wash?"
Four civil servants on trips to China were filmed in hostess lounges and then blackmailed into becoming informants for Beijing, Taiwan Justice Ministry spokesman Luo Chi-wang said. He did not say what has happened to them since being uncovered.

Another 36 conducted themselves in "inappropriate ways" with Chinese officials, he said without elaborating. (H/T – )
Hey, in fairness, the Chinese are rather strict with their definitions of "inappropriate" behavior. For all we know, the Taiwanese civil servants could have been reading the issue of Maxim with Lin Chi Ling on the cover!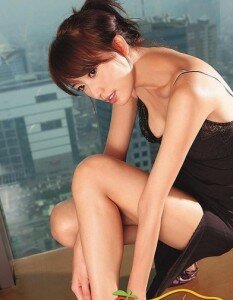 And Lin Chi Ling is anything but inappropriate!
Topics: WTF? | 5 Comments »