By Wyatt Earp | January 17, 2009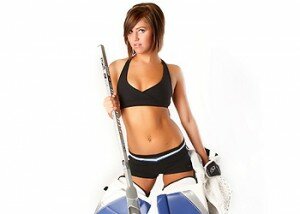 Ouch! Throw the beyotch in the sin bin for 2-5 years.
KETCHUM, Idaho – Police said a 52-year-old Ketchum woman is facing misdemeanor battery charges for whacking an opposing player with a hockey stick during a no-contact hockey game. Sun Valley police said they issued a misdemeanor battery citation to the woman earlier this week.
Someone needs to tell this dopey broad that no-contact means no-contact. Whacking a player with a hockey stick is, um, contact!
Assistant Police Chief Mike Crawford said the woman broke her stick over the leg of a male player on the opposing team who was lying on the ice at the time his leg was struck.

Crawford said the department normally doesn't get involved in on-ice altercations, but he said witnesses described the episode as excessive for a friendly hockey game. ()
Gee, ya think? Look, ice hockey is a rough sport and tempers flare at times. Lord knows I have committed more than my share of violence, but you don't strike another player with a stick. Ever. It's simply not cool.
If there's any justice, this woman will get a hefty fine, a few days in jail, and banishment from every ice rink in the continental United States.
Topics: Hotties, Ice Hockey | 4 Comments »