By Wyatt Earp | January 16, 2009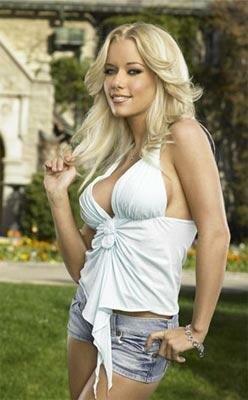 What??? That whore!!!
Who knew you had to sneak sex at the Playboy Mansion?

Kendra Wilkinson, one of Playboy founder Hugh Hefner's three girlfriends on "The Girls Next Door," told US Weekly magazine that "I had to have sex every now and then, so I had to kind of sneak it."
And yet, she never saw fit to call me. What gives?
While Wilkinson, 23, said she and Hefner were intimate at times, mostly she just saw him once day in passing.

Wilkinson described Hefner as more of a "sugar daddy" who kept close tabs on the girls, which made her "insane." (H/T - FOXNews)
Really, ya think? Gee, all this time I thought that the gals flocked to Hef because he was so witty, handsome, and young.
Good Lord, this woman may be the most idiotic female on the planet - and considering this planet also houses Britney Spears, Paris Hilton, and Janeane Garofalo, that's saying something. Luckily for her, looks go a long way.
Topics: Babes |