By Wyatt Earp | December 8, 2008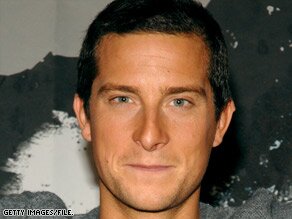 You just knew this was coming. Okay, let me guess. He was injured in one of the following ways:
1. He impaled himself on a stalagmite.
2. He drank a bad batch of his own urine.
3. The rattlesnake he ate "didn't agree with him."
Adventurer and TV show host Bear Grylls injured his shoulder in Antarctica during an expedition to raise money for an international charity, the Discovery Channel said Sunday.

Grylls was injured Friday night after falling during the expedition, which was not for the Discovery Channel, according to the network's statement. The statement said that Grylls is returning to the UK to receive medical attention.

"Once he sees a doctor, we will have a better sense of the level of seriousness of his shoulder injury and the recovery time needed to get him back to his full physical activity," according to the statement.

Grylls, 34, is the host of Discovery's "Man vs. Wild" in which he demonstrates extreme measures — including eating snakes and insects — used to survive in harsh environmental conditions. (H/T – CNN)
I friggin' love "Man vs. Wild," and I hope this doesn't affect the taping of upcoming episodes. Bear is a crazy SOB, and it's always entertaining to watch him do stupid things. I love "Survivorman," too, but Les Stroud is a little more sane than Bear.
Topics: Evil = Funny | 10 Comments »