By Wyatt Earp | December 21, 2008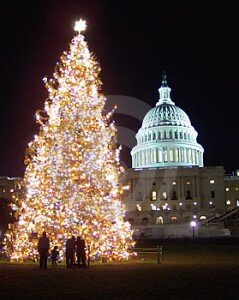 Christmas is only four days away, and everyone is getting ready for the big holiday.
Well, everyone except the Atheists. They'll be eating Chinese food and going to the movies on Thursday night.
The rest of us "normies" will be spending the day with our families, opening presents, and taking a break from those idiots in Washington, D.C. They truly are the Grinches that didn't bail out Christmas, and they are my subject for this week's Family Security Matters article.
Here's a sample:
In that vein, the web site Stupid.com has released its list of the "Ten Stupidest Gifts of the Holiday Season." These offerings run the gamut from the sublime to the ridiculous, but the fact that some of these things were created in the first place means that there is someone stupid enough to purchase them.

And speaking of stupid, our elected representatives are right next to that dictionary definition. One would wager that a few – or more than a few – of our public servants would be browsing this list for their aides, supporters, and constituents in these rough economic times. It is the least they can do, since they are personally footing the bill for the bailouts and economic stimulus packages, right? To wit:

Number ten on the Stupid.com list is the Pole Dancer Alarm Clock. No, that is not a typo. Apparently, when the alarm sounds, a plastic exotic "entertainer" dances to the music under a disco ball. Tasteless? Sure. Crass? You bet. Will it be the most popular gift given by (and to) former President Bill Clinton? Absolutely. Slick Willy probably owns one for every room in his house . . . and he will proudly display them when Hillary goes back to Washington, D.C.!
You can read the rest of the holiday funny HERE.
Topics: FSM |