By Wyatt Earp | September 29, 2008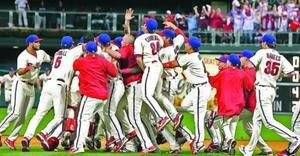 Finally, some common sense from the Nutter administration and the Philadelphia Phillies:
The Phillies are headed to the playoffs for the second straight year, but the team says it will not hold a center city pep rally like it did last year.

The Phillies say the move is out of respect for Officer Patrick McDonald, the Philadelphia police officer who was shot and killed last Tuesday.

The playoffs start on Wednesday. Officer McDonald's viewing is on Monday evening and his funeral is on Tuesday. (H/T – KYW1060)
Ya know, I rip Philadelphia's politicians and sports teams all the time, and usually, deservedly so. However, I cannot help but applaud the parties involved for this move. This week is certainly not the week to hold a pep rally in this town.
Topics: Philly | 5 Comments »