By Wyatt Earp | September 30, 2008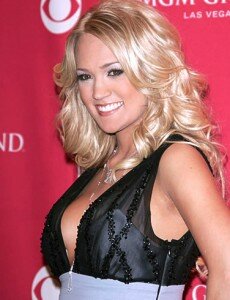 Mmm . . . Carrie Underwood, the best thing to come out of Oklahoma since Reba McIntire. Carrie is everything a guy like me can ask for: she's hot, she's talented, and she was dating Tony Romo (whom is on my fantasy football team and kicking arse for me).
Here's more from Wikipedia:
Carrie Marie Underwood was born to Stephen and Carolyn Underwood in Muskogee, Oklahoma, and was raised on her parents' farm in the rural town of Checotah, Oklahoma. She has two older sisters, Shanna(Underwood)Means and Stephanie(Underwood)Shelton. Her father, Stephen, worked in a paper mill and her mother was an elementary school teacher.
She also used to have a third nipple. True story.
Topics: Babes | 5 Comments »