By Wyatt Earp | September 29, 2008
I doubt GroovyVic will let me use her for today's babe, so I need to find another hottie from Ohio.
UPDATE: Due to popular reader demand, Groovy Vic has sent in two photos of herself. Have at it, boys, and then stop by her blog and thank her: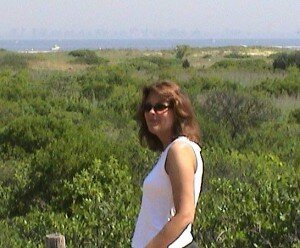 And there's also this one (which I really like):
Thanks, GV! Here's the rest of the original post, but remember, you cannot compare and contrast. Vic is a real, live babe. Angie is a professional model.
I considered posting Sarah Jessica Parker, but I want to keep my readership, not lose it. So, instead, I give you the smoking hot redhead from Akron, Ohio: Angie Everhart.
Here's some more from Wikipedia:
Everhart was born in Akron, Ohio, the daughter of Ginnie, a homemaker, and Robert Everhart, an engineer. The fifth child of six siblings, having four older brothers and a younger sister, she began modeling when she was 15. In 1987, she graduated from Firestone High School in Akron where she was a cheerleader and school mascot.
Mascot? Her high school teams must have been known as The Fighting Sexpots!
Topics: Babes | 7 Comments »