By Wyatt Earp | August 29, 2008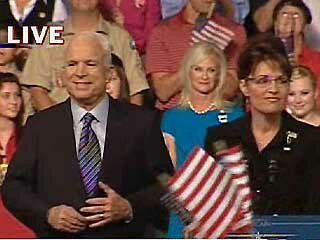 A bold choice. I guarantee the choice of Palin will lure some Clinton supporters to McCain, since most of them are still stinging from Hillary's VP snub.
DAYTON, Ohio — John McCain introduced Alaska Gov. Sarah Palin to be his vice presidential running mate at a noon rally here Friday.

"My friends and fellow Americans, I am very pleased and very privileged to introduce to you, the next vice president of the Untied States, Governor Sarah Palin of the great state of Alaska," McCain told a capacity crowd of 12,000 at the Nutter Center.

Palin is considered a rising star in the Republican Party. She is the state's first female governor, the mother of five — and at 44 is its youngest chief executive.
And, in my opinion, she's pretty hot.

Yeah, that has nothing to do with her policies, but what can I say? The woman is attractive.
Palin won a seat on the Wasilla City Council in 1992 as a new face and a new voice, and by opposing tax increases. Four years later she was elected mayor at 32 by knocking off a three-term incumbent. At the end of her second term, party leaders encouraged her to enter the 2002 race for the Republican nomination for lieutenant governor. Against veteran legislators with far more experience, Palin finished second by fewer than 2,000 votes, making a name for herself in statewide politics. She was elected Alaska's youngest and first woman governor in 2006.
And she has more experience (and more executive experience) than Barack Obama. Although, in fairness, Sarah Palin is not The Messiah . . .
Sarah and Todd Palin have five children: boys Track, 19, and Trig, 4 months, and daughters Bristol, 17, Willow, 13, and Piper, 7. Track Palin joined the Army last Sept. 11 and will deploy to Iraq next month.
So, it's safe to say she's pro-troops. I wonder if she thought the surge worked? Joe Biden said it would be a miserable failure. How'd that work out for you, Joe?
Palin had kept her pregnancy with Trig a secret as she worked in the governor's mansion, confirming only weeks before the birth that she was going to have a son who she knew would have Down syndrome. She returned to work in April three days after giving birth. (H/T – FOXNews)
She knew she was going to have a baby with Down Syndrome and never considering having an abortion. Remember that.
So, let's see: fiscal conservative, pro-unions, pro-life, pro-gun, and a self-described "hockey mom." Well, I'm satisfied. Oh, and she probably locked up the motorcycle vote, too.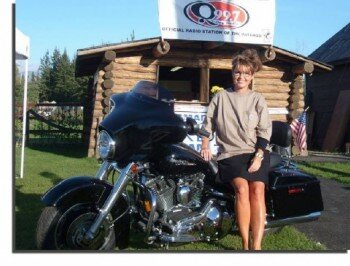 Great Governor Update: Miriam has an eloquent post about another rising GOP star. It's worth your time.
Topics: Politics | 22 Comments »