By Wyatt Earp | July 21, 2008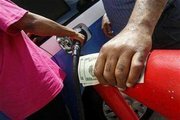 And before you answer, this has nothing to do with the after effects of eating Mexican food.
Of course, it appears that some Americans will do anything and everything for some free gas. The next thing ya know, guys will be lining up to marry Rosie O'Donnell for some complimentary fuel . . . and a boatload of Viagra.
NEW YORK (Reuters) – Some U.S. motorists sick of getting clobbered at the pump seem willing to do just about anything for free fuel, from giving up the right to name their children to stealing from day-care centers to donating blood.
I'm getting a vasectomy on Friday. What do I get?
In Orlando, Florida, David Partin pledged to name his son after local radio hosts to win a $100 gas card as part of a contest. Partin will collect the card in December, when his son is born, if he can produce a birth certificate proving the baby is named Dixon Willoughby Partin, after the hosts.

"(His wife said) this is his problem to explain when the child is older," Greg Stevens, WHTQ-FM program director told Reuters.
That's pretty disturbing, but this one is much more so . . .
At the Shady Lady Ranch brothel in Beatty, Nevada, clients who spend $300 or more this month will receive $50 gas vouchers as part of a promotion to beat the summer slump in business. (H/T – )
It's the perfect way to open the summer brothel season with a bang! I mean, some business have pulled a real boner or two before, but Shady Lady is thinking outside the box. That's just the thing to get the guys over the fuel hump! Heh.
I could do this all night . . .
Topics: Snarkasm | 11 Comments »