By Wyatt Earp | July 30, 2008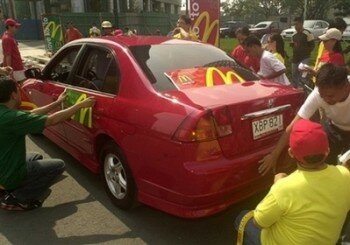 Get ready for the MickeyD P.D. God help us.
MANILA (AFP) – Police in Manila are looking to convert their patrol cars to run on a mixture of diesel and used cooking oil from McDonald's, officials and the company said Tuesday.

With oil prices at crippling highs, the project would convert cars in the Makati financial district to run on a mix of 40 percent diesel and 60 percent cooking oil, its police chief Senior Superintendent Gilbert Cruz said.

Used cooking oil will be donated by Makati outlets of the hamburger giant, said McDonalds franchising manager Buth Salaya. (H/T – )
That's a brilliant plan, because when I think "gas," I think McDonald's. Maybe the officers can handcuff suspects with debilitating cholesterol readings and beat criminals over the head with some day-old apple pies?
Topics: The Job | 11 Comments »