By Wyatt Earp | July 29, 2008

Unfortunately for England's Sarah Brown, she is unarmed. And un-legged.
I mean, come on, look who people are comparing her to: French First Lady/First Supermodel Carla Bruni-Sarkozy!
Oh yeah, Sarah Brown has a shot in hell.
Well, at least the dumpy Brown admits she can't win . . .
LONDON (AFP) – Prime Minister Gordon Brown's wife Sarah conceded in an interview Monday that she "didn't stand a chance" in the glamour stakes when French First Lady Carla Bruni-Sarkozy visited Britain with her husband in March.

Speaking to The Times newspaper, the former public relations executive shrugged off the suggestion that she was under pressure to dress up to meet with the former Italian supermodel.

"Well, I didn't stand a chance, did I?" Sarah Brown told the daily. (H/T – )
I feel sorry for Brown. For a regular person – or, as I like to say, a "normie" – she's actually fairly attractive. Of course, when standing next to someone who looks like this . . .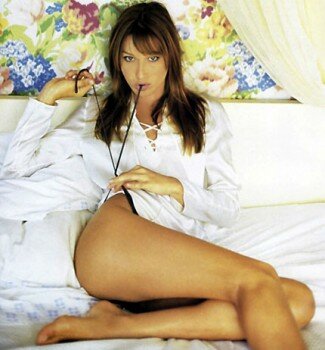 Sarah Brown might as well be yelling, "Soo-eey!"
I'm just sayin'.
Topics: Uncategorized | 15 Comments »