By Wyatt Earp | June 26, 2008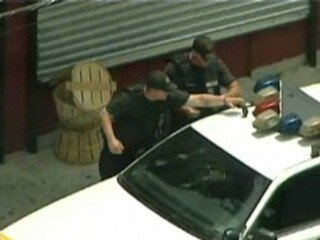 Apparently, we're getting them in Philadelphia now, too.
PHILADELPHIA (CBS 3) ― Authorities are investigating the discovery of a grenade on top of a Philadelphia Police cruiser Wednesday afternoon.

Chopper 3 was over the scene at Washington Lane and Gilbert Street in the West Oak Lane section of the city just after 1 p.m.

Police shut down the block while crews removed the potentially explosive device. (H/T – CBS3)
And you'll never guess where this happened. That's right: in my division. Some crazy bastard was walking down the street with a grenade in his pocket – and that is not a euphemism. Officers stopped the guy, and lo and behold, here's a grenade! It's okay, though, because he bought it at an Army/Navy store about twenty years ago.
I swear to God, my book will never sell. No one will believe it's non-fiction!
Topics: Philly, The Job | 9 Comments »