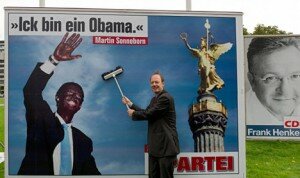 So get this: a German comedian has been putting up satirical billboards around Berlin. They are meant to be both funny and tasteless – the kind of policy this blog follows.
Of course, German humor is a little, um, "different."
German comedian Martin Sonneborn is well-known for jokes bordering on the tasteless. But a satirical political billboard of him posing in blackface makeup as US President Barack Obama is sparking outrage.

"Ick bin ein Obama (I am an Obama)," reads the poster at Berlin's central Ernst Reuter Platz square, in an apparent play on John F. Kennedy's famous "Ich bin ein Berliner" speech. On the poster, a "black" Sonneborn smiles as he raises his arm in the air.

The billboard is the latest in Sonneborn's campaign for his satirical political party Die Partei ahead of state elections in Berlin this Sunday. It's meant to make fun of the entire German political establishment and go up to the edge of propriety – another poster is entitled "MILFS against Merkel" and the campaign has also mocked the neo-Nazi National Democratic Party.
Okay, "MILFS against Merkel" is a riot. They're probably against her because they're jealous of her ample cleavage. Now where are my hiking boots?