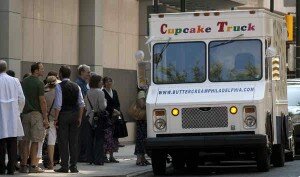 I challenge you to find an American city that is more business-unfriendly than Philly. If the rampant corruption, the crippling taxes, and the proposed blogger licenses aren't enough to make you steer clear of this burg, this story should do the trick:
Kate Carrara is the Buttercream "cupcake lady," selling frosted goodies from a converted postal truck to lines of devoted fans in Philadelphia. On Tuesday, she posted some bad news on her Twitter account, which has more than 4,000 followers.

"Sorry everybody, L&I confiscated the truck due to map disputes. Hopefully we can straighten it out or else we may just sell cakes from jail," Carrara wrote.

Carrara provided a copy of L&I's "Report of Removal," with the violation described as "Vending in a prohibited area." She was parked on Market Street near 33d in University City and had a line of people waiting for cupcakes, but had yet to start selling. She said three officials from L&I's Business Compliance Unit drove up to her truck around noon and blocked her from leaving. One of the officials then drove off with her truck, she said.

"Don't worry, I'm a very good driver," the man said, Carrara recalled. "I've done this before." (H/T – Willceau)
Yeah Philly, keep voting Democrat. Pretty soon you'll have no businesses left.
(Thanks to Tam and Sebastian for the hit-alanche.)