By Wyatt Earp | February 27, 2009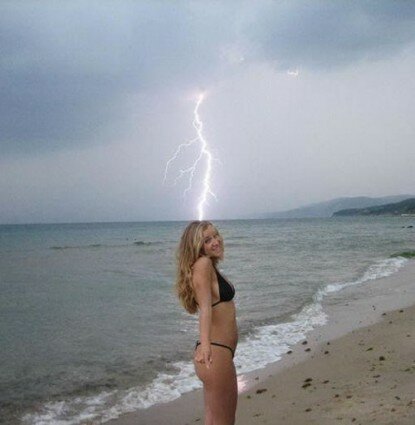 Lightning Hot Caption Contest
(Source: Break.com)
Submit your original caption to this picture in the comments section, or e-mail me your photoshop entries. The winners will be announced on Monday, March 2nd. Good luck!
Photoshop Entries:
Other Current Contests:
Blonde Sagacity
Cowboy Blob
Family Security Matters
Gone Rick Motel
Right Pundits
Rodney Dill
RT
Top Five Entries:
5. God's method of highlighting side-boob. – RFTR
4. There was just something electrifying about Tiffany's personality. – RT
3. Bill hoped he wasn't going to catch the thunderclap. – JimmyB
2. Cowboy Blob's Photoshop.
WINNER! – …And God said, "Let there be blondes." – Sully
Topics: Caption Contest | 28 Comments »