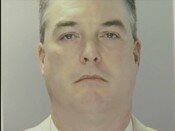 The officer is reportedly in stable condition. The criminal was shot and killed by police.
I have a question for Commissioner Ramsey: Do you think you should fast-track our issuance of .45-caliber Glocks now, or would you rather hold them up while you and the rest of the bosses work out "procedural differences?"
I anxiously await your answer.
PHILADELPHIA ― A police officer was wounded and a suspect killed during a shootout in North Philadelphia Thursday.

Early reports state an officer was shot in the leg at Germantown and Indiana Avenues at about noon. The officer was rushed to Temple University Hospital in stable condition.

Fellow police at the scene reportedly returned fire, fatally wounding the suspect. (H/T – CBS3)
Good. Strike up another win for the good guys. Reports are claiming that it was a detective that was shot. I'll keep you posted.
UPDATE: Here are the circumstances surrounding the shooting:
Deputy Police Commissioner Richard Ross said 42-year-old Detective Albert Ford was shot in the leg at Germantown and Indiana Avenues at about noon.

Detective Ford and several other officers were serving a warrant to Kevin Robinson, 25, when a struggle ensued and the suspect fired on police. Officers returned fire fatally wounding Robinson. Robinson was wanted in connection to a shooting from October, 2008, when he allegedly shot and wounded his ex-girlfriend's uncle.

The detective was rushed to Temple University Hospital with a through and through wound to the upper left thigh. Authorities said he was in stable condition and is expected to recover.

"He's in tremendously good spirits and the entire city is in good spirits with him," said Mayor Nutter after visiting the officer. "We been this scene one too many times over the past 14-months or so and the outcome has been very different so we are very grateful that the officer is on his way to recovery."

"We're thankful that this time did not turn out like the last few times," Ross said. "It still speaks to the violence that we deal with each and every day." (CBS3)
Detective Ford is married and a father of four. Please pray for a full and speedy recovery.