By Wyatt Earp | June 21, 2011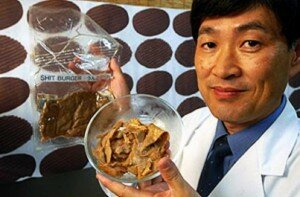 For once, you can say, "This food tastes like crap" and not offend anyone.
Japanese researcher Mitsuyuki Ikeda has come up with perhaps the greenest alternative to the livestock industry yet: he's engineered fake meat from human feces. Ikeda's artificial meat is made from extracting lipids and protein from "sewage mud," combining these lipids with a reaction enhancer and putting the whole thing in an exploder to combine it. Steak sauce and soy sauce add saltiness and a dash of umami to the fake meat.

Ikeda notes that the "burgers" are low in fat and, because they don't rely on livestock, won't raise carbon emissions or waste. (H/T – Kim)
I guess eating your own crap will make you a favorite of the libtard green crowd.
Topics: WTF? | 24 Comments »