By Wyatt Earp | November 9, 2010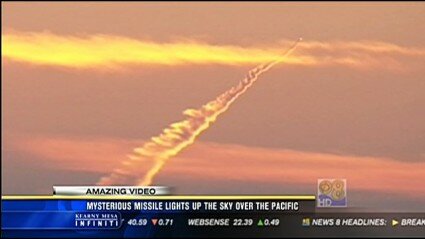 There's nothing scarier than seeing a missile launch off the California coast that no one seems to want to take credit for. Is it American, is it foreign, what?
A mysterious missile launch off the southern California coast was caught on video Monday evening by a KCBS news helicopter. The spectacular contrail could easily be seen up in Los Angeles, but who launched this missile and why, remain a mystery for now.

The location of the missile was described as west of Los Angeles, north of Catalina Island, and approximately 35 miles out to sea.

A Navy spokesperson tells News 8, this wasn't its missile. He said there was no Navy activity reported in that part of the region. On Friday, November 5, Vandenberg Air Force Base launched a Delta II rocket, carrying the Thales Alenia Space-Italia COSMO SkyMed satellite, but a sergeant at the base tells News 8, there have been no launches since then.
Okay, is anyone else unsettled that no one – including the military – seems to know anything about this?
UPDATE: NORTHCOM is saying that it was a jet contrail. Anyone buying that?
2ND UPDATE: My good friend, and navy vet Old NFO is saying it is in fact a jet contrail. He's our resident expert in all things aviation, and I trust his judgment. It is now okay to exit your bomb shelters, kids.
Topics: WTF? | 39 Comments »