By Wyatt Earp | September 27, 2010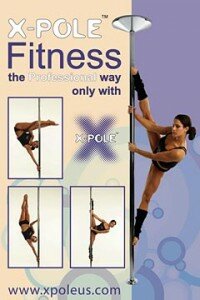 Remember the good old days when guys would spend good money to watch hot babes dance their way around a stripper pole? Well, the good old days are gone forever, and they have been replaced with the great new days!
Thanks in part to the X-Pole corporation, even regular hot babes can bone up on their acrobatic skills. Of course, I guess the flip side of that coin is that morbidly obese, hatchet-faced chicks can also scare the shine off the pole. That's capitalism for you. It's both a blessing and curse.
My ice hockey team starts its season a week from today. Maybe I should use this to get into shape?
Pole dancing is no longer just for bachelor parties and "gentlemen's clubs." And the women who wrap them themselves around the poles are no longer "exotic" dancers with names like Brandy, Bambi and Jasmine. In fact, they may be your neighbor's wife or the town librarian.

Just ask Ty Knutson, president and CEO of X-Pole, the world leader in "professional portable exercise and dance poles." His product now caters to arguably the fastest-growing exercise craze both in the U.S. and abroad, a "sport" that features competitions, teams and many tongue-wagging fans.
Okay, I'll need my female readers to try this out and report back to me . . . with specific details and glossy photos.
Topics: Coolness! | 15 Comments »