By Wyatt Earp | September 30, 2010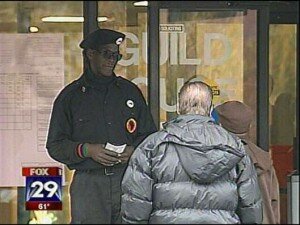 Well yes, unless the offending party is African-American. I completely missed this story from last week because I was preoccupied with Stephen Colbert's idiotic "testimony" on Capitol Hill – conveniently scheduled during Christopher Coates' testimony of the New Black Panther Party intimidation case. He confirmed a lot of what we already knew. Namely, the Obama administration was not prosecuting many cases – including the NBP Party – where African-Americans were the defendants:
Coates simply destroyed the year-long spin from the Justice Department regarding the dismissal. Coates is the former Voting Section chief, and served as lead attorney on the Black Panther case. He has practiced voting rights law longer than any other lawyer at the Justice Department. His testimony today was the worst possible nightmare for the Obama political officials responsible for the dismissal.

I testified before the Commission in July that Obama political appointee Julie Fernandes made it clear that the Voting Section at the Justice Department would not be bringing any more cases against traditional national racial minorities, like the members of the New Black Panthers. Under oath, Coates corroborated my testimony. Coates testified:

[There is a] deep-seated opposition to the race-neutral enforcement of the Voting Rights Act against racial minorities and for the protection of whites who have been discriminated against.
Oh, it gets worse. Check out more below the fold.
Coates verified that the DOJ is infested with racially motivated hostility towards equal enforcement of the law. Like me, Coates testified about the history of open and pervasive hostility inside the Voting Section to protecting the rights of white voters. This hostility first emerged in the case against Ike Brown in Noxubee County, Mississippi, going back as far as 2004:

The opposition within the Voting Section to taking actions on behalf of white voters in Noxubee County, Mississippi, … was widespread.

Coates confirmed that senior managers didn't even want to open the investigation into discrimination against white voters in Noxubee County:

The Deputy Chief who was leading that election coverage asked me: "can you believe that we are going to Mississippi to protect white voters?"

It's pretty damning stuff, and you probably haven't heard much about it. I wonder why that is? Take a few minutes and read the rest of the article. You owe it to yourself to find out what Obama's DOJ is doing. Or in this case, not doing.
Topics: Politics | 9 Comments »