By Wyatt Earp | September 23, 2010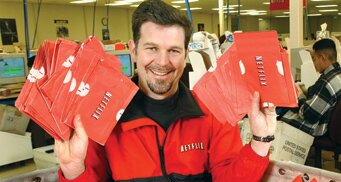 Are you a fan of Neflix? Because Netflix CEO Reed Hastings is not a fan of you.
THR: American services when they enter the Canadian market typically charge the locals more than they charge stateside. Why the discount for Canadians?

Hastings: We want to provide an incredible value for Canadians, and it's the lowest price we have anywhere in the world for unlimited screenings. And anyone can try it for free for a month. It's pretty addictive.

THR: Are you concerned that American Netflix subscribers will look north and ask for the same discount Canadians get at $7.99?

Hastings: How much has it been your experience that Americans follow what happens in the world? It's something we'll monitor, but Americans are somewhat self-absorbed.
You see what Hastings is saying here, don't you? He's saying that American Netflix customers are too stupid and "self-absorbed" to figure out Canadian customers get a discount on his services. That's a guy who I want to give my hard-earned money to.
Topics: WTF? | 17 Comments »