By Wyatt Earp | September 16, 2010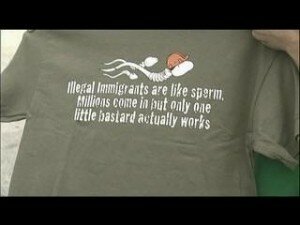 And of course, we should feel sorry for the criminals because their delicate sensibilities have been harmed. Never mind the feelings of the Arizonans who have to deal with these toads. Never mind the fact that the t-shirt is basically true. Never mind the fact that criminals shouldn't have an opinion – at least not one any citizen cares about.
The t-shirt reads: "Illegal Immigrants are like sperm. Millions come in, but only one little bastard actually works."

The store behind the shirt is Spencers. They say the merchandise is meant to be funny and topical. Arizona's controversial law brought illegal immigration in the national spotlight. The shirt is building off that attention, but those offended by it say it crossed the line.

"They compare human beings with something that is disgusting," said Rosa Dawson, who is offended by the shirt.
Technically Rosa, a sperm is a future human being. Idiot.
Mexican-American Fernando Rangel is outraged by their message and so are people from other ethnic backgrounds.

Rangel says "There's millions of immigrants searching for a better life..it's just a slap in the face to us like we just come here to ruin the country and it's not that."
Those of you who come here legally do not ruin the country. The rest of you who slip through the borders (and breaking our laws) are ruining the country. Comprende, jefe?
I was going to urge you all to give Spencers your business until I read this part of the article:
Spencers ordered the shirts removed in August, but not all got packed away.
Does anyone know how to say "pussies" in Spanish? (H/T – Code Monkey)
Topics: Evil = Funny, Illegal Immigration | 15 Comments »