By Wyatt Earp | September 26, 2010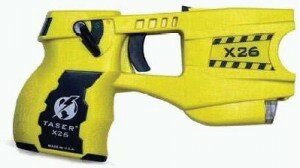 If there is a law enforcement tool that is more effective at both subduing criminals and creating hilarious situations than the taser, I have yet to find it. Simply put, the taser is God's joy buzzer. And make no mistake, when we use it on some toad, we laugh about it for hours afterward. .
A Cheyenne man who doused himself with white latex paint in hopes of avoiding a police Taser was hit with the stun gun anyway.

The Taser chase happened Sept. 16, when Cheyenne police went to Brian Mattert's house on a domestic violence call. The Wyoming Tribune Eagle reports that when police arrived, Mattert thought they'd use a Taser on him, so he hastily covered himself in paint and told officers that if they shot him with the stun gun, he'd die.

Officers told him the paint wouldn't affect the Taser's capability. According to police, Mattert scuffled with officers and was hit with a Taser twice before officers handcuffed him. (H/T – Robert B.)
Considering his tactics, it would appear that this imbecile has a lot of experience with paint products. My guess is that he dined on lead paint chips as a kid.
Topics: Evil = Funny, The Job | 20 Comments »