By Wyatt Earp | September 5, 2010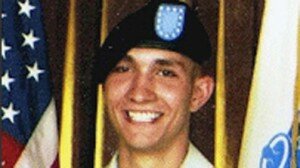 A soldier is trying to weasel out of his deployment to Afghanistan, claiming his Muslim faith clashes with his military service. Suffice to say, this "soldier" is nothing of the sort, and is a disgrace to the uniform that others wear proudly.
Thankfully, a Muslim group came out and condemned this toad's actions.
An American Muslim organization is asking the U.S. Army to deny a Muslim soldier's request for conscientious objector status, accusing him of treason and urging the military to punish him to the full extent of the Uniform Code of Military Justice.

Pfc. Naser Abdo, a 20-year-old infantryman who joined the Army one year ago, filed for conscientious objector status in June, saying his faith and the military don't mix. "As a Muslim, we stand against injustice, we stand against discrimination, and I feel it's my duty as an individual to do this," Abdo told FoxNews.com.

The Army has deferred his scheduled deployment to Afghanistan.
How ironic is it that the Army decided to defer Abdo's deployment, while the Muslim organization is labeling him a traitor?
Not content to simply slam Abdo for his bullsh*t story, the AIFD goes further.
But the American Islamic Forum for Democracy (AIFD) says Abdo's claim is "patently false."

"Muslims serve with distinction throughout the United States Military and AIFD sees Abdo's traitorous public assertions as a slap in the face to all American Muslims especially those Muslims who fight in our armed forces for the liberty and freedom guaranteed by the American Constitution," the group said in a statement it issued on Friday.

Dr. M. Zuhdi Jasser, president of AIFD: "Abdo's actions are an affront to every American Muslim who has proudly donned a U.S. military uniform. His assertions are not built on Islamic teachings but on a feeble adherence to the global political ideology of Islamism that threatens our security and radicalizes our Muslim youth."
Far too often, I have criticized American Muslims for not condemning acts of terror. Acts committed in the name of Allah. Dr. Jasser and the AIFD earned my respect with their stance against Pfc. Abdo. Hopefully, they earned your respect, too.
Topics: The Troops | 17 Comments »