By RT | August 20, 2010
Wyatt must miss us. He has written another postcard, and Mrs. Crankipants has decided to share it with us.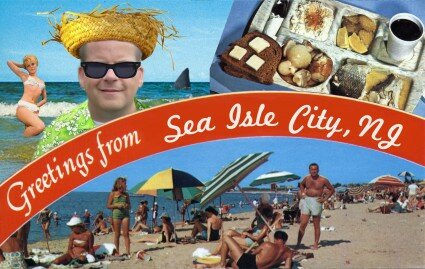 Dear Mrs. Crankipants,
I thought I'd send you one more postcard.
Truth be told, I miss writing snarky posts and comments. I haven't written all week and it has given me the shakes.
To get it out of my system, here is a brief list of things I loved about my vacation:
1. These cool shades you see in my picture. Paired with a white cane, they make a handy tool for getting help from the beauties.
2. I've added to my hat collection. While I was here I read Huck Finn. It made me nostalgic for taking a raft out into the water. First, I bought this hat and then I took the inflatable raft out into the ocean. It was a smart idea until I saw a shark fin. You know, you learn to swim pretty fast when you're being chased.
3. The food! I had fudgie wudgies, pizza, french fries, fudge, salt water taffy, popcorn, and that was just the first day! The seafood choices are amazing, as seen in my picture of the all-you-can-eat seafood buffet samplings I had.
4. Most of all, I loved all of the time with the family. The kids played a fun game with me this morning. They buried me in sand and then talked their mom into playing hide and seek. That sand feels really nice after a few hours.
Well, I'll be home in a bit. Hope all is well with the blog.
RT better be behaving herself. I don't want to hear about her threatening people with permanent injury and going on about hot dudes.
Okay. Gotta go. We're hitting the boardwalk for one last round of carnival games and funnel cake.
Your pal,
Wyatt
Topics: , Wyattastic | Comments Off