By Wyatt Earp | August 28, 2010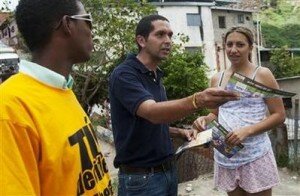 Remember the good old days when politicians promised future favors for someone's vote? Or in the case of Chicago, when they paid you off with cold, hard cash? Well, a Venezuelan politician is kicking it up a notch this election season, .
A Venezuelan politician is offering breast implants as a prize in a raffle to raise funds for his parliamentary election campaign.

"Some people raffle TVs and we decided to offer this. It's an interesting prize and there's a lot of interest," Gustavo Rojas, an opposition candidate for a National Assembly position, told Reuters while campaigning in Caracas.
I'm surprised Gustavo Rojas didn't send a message to the Democrats saying, "Bribery: You're Doing It Wrong."
Topics: Coolness! | 8 Comments »