By Wyatt Earp | August 22, 2010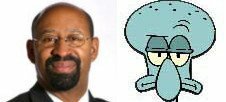 Are you a Philly blogger? If so, Mayor Squidward is coming for you. And as usual, he has his hands out.
You may want to break out the duct tape, gang, because you're going to need it. :
This is ridiculous. The City of Philadelphia (run by progressives and liberals) is telling bloggers they have to pay $300 per year for a business license. Let me tell you, blogging is not very lucrative, and this will cost blogs that don't generate a ton of traffic more than they earn:

For the past three years, Marilyn Bess has operated MS Philly Organic, a small, low-traffic blog that features occasional posts about green living, out of her Manayunk home. Between her blog and infrequent contributions to ehow.com, over the last few years she says she's made about $50. To Bess, her website is a hobby. To the city of Philadelphia, it's a potential moneymaker, and the city wants its cut.

In May, the city sent Bess a letter demanding that she pay $300, the price of a business privilege license.

"The real kick in the pants is that I don't even have a full-time job, so for the city to tell me to pony up $300 for a business privilege license, pay wage tax, business privilege tax, net profits tax on a handful of money is outrageous," Bess says.
You know, I sometimes joke that I hate this town, its one-party system, and its rampant corruption. Usually it is just me letting off steam, but it's not a joke anymore. You may not know this, but there is an annual fee to maintain this site and keep the url. Not to mention the countless hours I spend writing posts, replying to comments, and searching for interesting, blogworthy links. And this blog makes $0 a year.
Let Philadelphia try to extort $300 from me. They can pry it from my cold, dead hands.
Topics: Philly |