By Wyatt Earp | September 25, 2010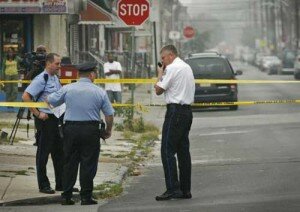 Dear Philadelphia thugs, I know you want to sell drugs, rape beyotches, and live the Thug Life to the fullest, but when you are carrying your gun, it is a good idea to put it down when your are told. Sure, I know you don't respect the po-po because we're living "jacked up" lives, but we enforce the laws here. It's a good idea to listen to our advice.
Of course since you think you know better, you'll still point guns at us, or try to take our guns out of our holsters. If you think that is a prudent course of action, then knock yourself out. But know this; if you do try something like that, we are going to respond in kind. Believe me, we're better shots than you are:
A police officer shot and critically wounded a 43-year-old ex-convict as he reached for another officer's gun during a struggle in South Philadelphia today, authorities said. It was the second police-involved shooting in a matter of hours, following the fatal shooting of an armed man Thursday night in Frankford.

When officers arrived at the woman's home on the 1400 block of South 21st Street in Port Breeze about 7:15 a.m., they confronted [Kevin] Rex, who started struggling with one of the officers, police said. When Rex reached for the officer's gun, the officer's partner fired, hitting Rex in the chest, police said. Court records show Rex has served time for rape and was awaiting trial for drug possession

Internal Affairs is investigating the shooting as well as one Thursday night that left Tyree Quiah, 22, dead. Quiah, who was awaiting trial on drug and weapons offenses, was shot after 15th District police responded to reports of a person with a gun and gunfire in the area of Bridge and Charles Streets, police said.

The "officer observed the suspect running with a weapon in his hand," Vanore said Thursday night. The officer caught up to the suspect who refused to show his hands. The officer fired his 9mm Glock, striking the suspect twice in the chest. Quiah was transported by police to Aria Health, where he was pronounced dead at 10:36 p.m. A .22-caliber handgun was nearby, police said.
Here endeth the lesson.
Topics: Philly, The Job | 12 Comments »