By Wyatt Earp | July 23, 2010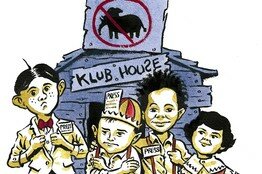 By now, you may know about the JournoList scandal. If not, here is the Cliffs Notes version: JournoList is/was created to be an online service designed to help reporters and journalists. In reality, it turned out to be a meeting place to discuss and promote a united liberal agenda before disseminating it through the unsuspecting public.
I know I am late to this party, but I wanted to read as much about this shameful story as I could. So far, I think the best article on the subject comes from The Weekly Standard's Fred Barnes, one of the conservative voices the JournoList members wanted silenced:
Not to say there's a media conspiracy, but at least to note that hundreds of journalists have gotten together, on an online listserv called JournoList, to promote liberalism and liberal politicians at the expense of traditional journalism.

JournoList contributors discussed strategies to aid Mr. Obama by deflecting the [Reverend Jeremiah Wright] controversy. They went public with a letter criticizing an ABC interview of Mr. Obama that dwelled on his association with Mr. Wright. Then, Spencer Ackerman of The Washington Independent proposed attacking Mr. Obama's critics as racists. He wrote:

"If the right forces us all to either defend Wright or tear him down, no matter what we choose, we lose the game they've put upon us. Instead, take one of them—Fred Barnes, Karl Rove, who cares—and call them racists. . . . This makes them 'sputter' with rage, which in turn leads to overreaction and self-destruction."
So, this proves what a lot of people have thought for a long time. That the mainstream media no longer reports the news without a certain – usually liberal – spin. Mr. Barnes sums up the scandal nicely below the fold.
I think JournoList is—or was—fundamentally different, and not simply because one of its members proposed to make palpably false accusations. As best I can tell, those involved in JournoList considered themselves part of a team. And their goal was to make sure the team won. In 2008, this was Mr. Obama's team. More recently, the goal seems to have been to defeat the conservative team.

What was particularly pathetic about the scheme to smear Mr. Obama's critics was labeling them as racists. The accusation has been made so frequently in recent years, without evidence to back it up, that it has little effect. It's now the last refuge of liberal scoundrels.
How anyone can trust the mainstream media again is beyond me. I am still waiting for someone to publish a list noting every member of this cabal. If it becomes available, I'll post it here so you 'll know the guilty parties involved.
Take the time to read the entire article. It casts a pretty revealing light on the members of JournoList, and shows them in all of their hateful, spite-filled glory.
UPDATE: Wikipedia has a partial list of members HERE. Most notable are CNN's Jeffrey Toobin and Politico's Ben Smith. That explains a lot.
Topics: Duct Tape Advisory | 14 Comments »