By Wyatt Earp | June 23, 2010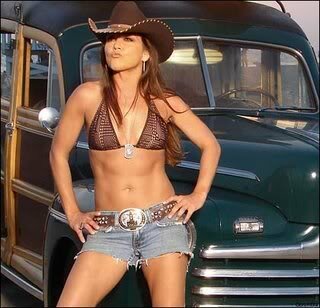 Apparently, .
New York City's famous Naked Cowboy wants a bikini-clad woman who calls herself The Naked Cowgirl to stop ripping off his trademark. He has sent a cease-and-desist letter to Sandy Kane, who wears a red, white and blue cowboy hat and matching bikini.

Burck says if Kane's going to make money by posing for photos, he wants her to sign a "Naked Cowboy Franchise Agreement." Most of his licensed franchisees are required to pay $5,000 a year or $500 a month and go through a screening process.

Kane, who is in her 50s, is a former stripper who's now a fixture of the city comedy scene.
Natch, I had to look up a photo of Ms. Kane. I am still pouring bleach into my eyeballs, so I decided that the girl above (Country star Gretchen Wilson) is the Naked Cowgirl from here on out. Trust me, don't look up the real one.
Topics: WTF? | 7 Comments »