By Wyatt Earp | June 22, 2010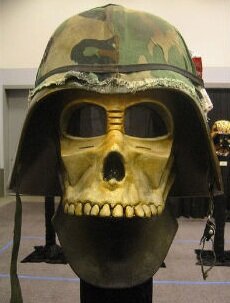 Once in a while, some of my friends send me cool story ideas. Links, pics, or just a funny anecdote. I think this story, sent to me by Smite A. Hippie, is a combination of the three. Enjoy!
Basic black is classic, especially for a villain – but does it ever get old? There's no telling what Darth Vader would think about the artistic and sometimes ironic makeovers his helmet has been given by the 100 artists participating in the Vader Project. Anime Darth, Spy vs. Spy Darth, Lady Liberty Darth and plenty of hot pink, sparkly and downright cute designs stand out among this eclectic mix of customized replica Darth Vader helmets.

[A]ll 100 amazing helmets are back in LA for one last show before going up for sale at Freeman's Auction in Philadelphia on July 10th 2010.
Hmm, I wonder if I'm off on July 10th? Click on the link to see more.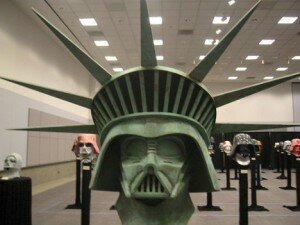 Topics: Coolness! | 2 Comments »