By Wyatt Earp | November 5, 2009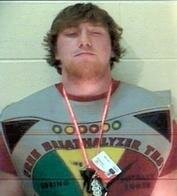 Irony, thy name is James P. Miller.
Imagine you are lucky enough to be the officer that pulls this toad over. You call the job in, walk up to the vehicle, see this drunken yutz behind the wheel, ask him to step out of the car, and . . .
Bawahahahaha!
This, my friends, is why I became a police officer. The entire profession is chock full of comedy!
A 20-year-old Cincinnati man dressed as a Breathalyzer test found himself blowing into one when Oxford police picked him up on suspicion of drunk driving Halloween night.

Oxford police arrested James P. Miller after allegedly finding him driving the wrong way down a one-way street with no headlights at about 1:30 a.m. Nov. 1., according to a police report.

Police found an open container of beer in the center console, a partial case of beer on the passenger side front seat and more beer in the trunk of the car, according to the report. Miller also had multiple Ohio driver licenses, police said. Miller was taken to the Oxford police department, where he blew a 0.158 percent blood alcohol level – nearly twice the legal limit. (H/T – Dayton Daily News)
As if this story isn't funny enough, you'll never guess where the straw is located on Miller's breathalyzer costume. Classay!
Topics: WTF? | 11 Comments »