By Wyatt Earp | August 13, 2009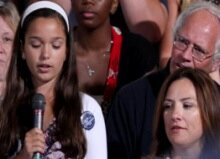 Okay, not THE Obama Girl, but AN Obama Girl. Isn't she just the most precious thing? And how courageous of her to stand up in front of an entirely non-scripted Town Hall meeting and ask the President of the United States a very pointed and relevant question?
I mean what are the chances that a little 11-year old girl would get an opportunity like this? Well, in the carefully choreographed world of Barack Obama, the chances are pretty damned good.
As we always like to point out: There are no coincidences in Obama world.

Via the Boston Globe: Surprise!

A girl from Malden asked President Obama a question at Tuesday's town hall meeting in New Hampshire about the signs outside "saying mean things" about his health care proposal.

Eleven-year-old Julia Hall asked: "How do kids know what is true, and why do people want a new system that can — that help more of us?"

The question opened the door for the president to respond to what he called an "underlying fear" among the public "that people somehow won't get the care they need."

The girl later told the Globe that picking the president's brain was "incredible."

"It was like a once in a lifetime experience," she said.
Or maybe not so once-in-a-lifetime . . .
[Julia's mother]Manning Hall has donated thousands of dollars to Obama, as has her law firm.

But, you know, um, like Obama said: "I don't want people saying I just have a bunch of plants in here."

Oh, goodness. Of course not.

Now, look for Dems to play the kiddie human shield card to the hilt. Anyone who mentions Hall's political pedigree will be attacked as a vicious meanie stalker. (H/T – Michelle Malkin)
How stupid does Obama think the American people are? Don't answer that: we all know he holds us in contempt.
Does this man have any shame? Any at all??
Topics: Politics | 11 Comments »