By Wyatt Earp | July 4, 2009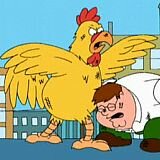 Apparently, to frak up rush hour traffic and piss off a lot of morning commuters. In hindsight, it's a shame the bird wasn't flattened by a tractor trailer full of barbecue sauce. The Independence Day weekend would have started off with a delicious bang!
Code Monkey sent me this gem, and as always, it generated quite a few early weekend laughs. Enjoy!
Drivers found themselves contending with more than holiday traffic Friday when a chicken was found crossing the road.

Northbound Interstate 17 remains backed up north of Loop 101 after a rooster tried to cross the freeway about 11 a.m. at Arizona 74

"It's just a busy holiday – and of course the rooster," said Officer Robert Bailey, a DPS spokesman. "The rooster only compounded matters." (H/T – AZ Central)
Considering the location of this incident, the reason the rooster crossed the road is simple: It was escaping an illegals' cockfight.
Topics: WTF? | 3 Comments »