By Wyatt Earp | April 25, 2009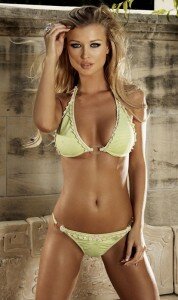 And of course, I am listening. I mean, it's only polite to listen to one of the most beautiful supermodels in the world, and far be it for me to be rude to someone. Heh.
Swimsuit supermodel Joanna Krupa is teaming up with NFL bad boy Terrel Owens for ABC's new all-celeb prime-time reality-show "The Superstars," set to air June 23.

The show pairs pro athletes with celebrities and sends them into demanding sports competitions.

Which got us to thinking. How will Krupa, and the other cuties involved, keep their, um, assets in place during the demanding sport stunts? (H/T – FOXNews)
Probably duct tape, because you know, if you can't fix it, duct it! Actually, Krupa suggests some one-piece swimsuits that cover all. Personally, I like bikinis, but that's just me.

Then again, Joanna could wear a potato sack and look fantastic.
Topics: Babes | 8 Comments »