By Wyatt Earp | April 29, 2009
Natural, fake, whatever. It's all good to me.
In Hollywood, there are two kinds of people: those who have been nipped and tucked, and those who go au natural. Both require a certain faith.

One trusts that her plastic surgeon knows what he's doing. The other believes that what God gave you is as good as its going to get.

Audrina Patridge and Jennifer Aniston are both putting their faith in the Lord, at least when it comes to their bikini bodies.

Hollywood celebrity trainer Barry Jay rated his Top 15 non-enhanced bikini bods. He told Radaronline.com that Patridge "is a good example of healthy diet. She has nice, lean thighs. You don't have to lift heavy weights for that, but you really gotta watch the diet." (H/T – FOXNews)
Patridge (above) is pretty fantastic, but my next favorite on the list has to be Kelly Brook. Yummay!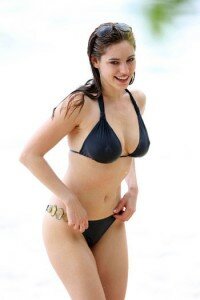 Oh yeah, that's nice.
Topics: Babes | 10 Comments »