By Wyatt Earp | February 8, 2009
Today is my lovely bride's thirty-something birthday. There is a standing court order that I not mention her age, so I won't mention it here - although she is younger than I am. She is a terrific wife, a fantastic mother, and a great friend. I appreciate all of the work she does to keep the ranch running smoothly - more than she could ever know.
Since she will complain that I overspent on her birthday gifts - as she always does - I figured I would ease her pain with a photo of one of her favorite Hollywood types: Bones actor David Boreanaz.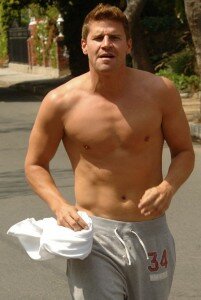 Happy Birthday, L!
(This also starts Birthday Week at the Earp Ranch. We have three birthdays in the next six days. Erik is tomorow and Kevin is on Valentine's Day.)
Topics: All About Wyatt |