By Wyatt Earp | February 15, 2009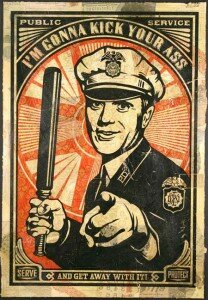 I wanted to post this yesterday, but it took me a day to simmer down. There was no point in posting this if it was just going to be one "F-bomb" after another. I'm still sore about it, but I needed to write this so you folks know what we have to deal with after a fellow officer is murdered.
Yesterday, a thug was arrested and brought into the division for retail theft. The rocket scientist stole five tubes of toothpaste – a product the man obviously never used in his life.
When the offender was being processed – in the same police station where John Pawlowski worked – the arresting officer asked him for his biographical information. And that's when it happened.
The man immediately exploded and yelled the one thing you should never yell 12 hours after a police officer is murdered:
"This is why all you f**king white boys are gettin' shot!"
Had I been next to the offender, I would have gone into full Queen Latifah mode: "Oh no you didn't!" Unfortunately, I was upstairs in the squad room. But, since the incident happened, I thought it best to explain the rules of etiquette to those of you who are not members of law enforcement.
If you find yourself arrested the day week month after a police officer is murdered, it is wise to not tell another officer that doing his or her job is the reason officers are being murdered. Similarly, if you are going to make such asinine statements out loud, it is best to not say them in the building where a recently murdered officer was assigned!
Just a safety tip from your old pal Wyatt.
Topics: The Job | 19 Comments »