By Wyatt Earp | January 5, 2009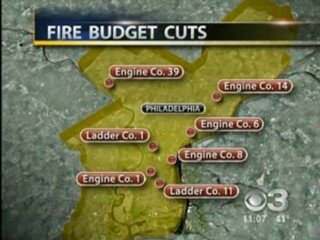 Wow, he actually did it, and there is little - if any - uproar from the media. Unbelievable. Captain America has been all over this story.
PHILADELPHIA (CBS 3) - Five Philadelphia fire engine and two ladder companies said their goodbyes Monday after they were closed in the wake of a city budget crisis.

The seven fire companies were closed just after 8 a.m. as the city hopes the move will save $10 million a year in overtime.

Among those companies closed was Engine 8 at 4th and Arch Streets, the oldest fire company in the United States which was founded by Benjamin Franklin.

The Nutter administration said they do not plan to close any fire houses and firefighters in the closed companies will be reassigned.
Eh, what? HE JUST CLOSED SEVEN COMPANIES TODAY, BUT HE IS SAYING HE DOES NOT PLAN TO CLOSE ANY FIRE HOUSES??? WHERE ARE THE FOLLOW-UP QUESTIONS, PHILLY MEDIA??? Does Nutter plan to keep these fire houses "open," but empty?
"The city is safe. This plan was done by professionals in the department who have been in burning buildings themselves and developed with their expertise and 100 years of firefighting," Nutter said. (H/T - CBS3)
So when people start dying because of the slower fire response, can we charge Nutter with involuntary manslaughter? It's something to think about.
Strangely enough, if you check the map you'll see that Nutter closed ZERO fire stations in his neighborhood. None. If he was really convinced that this insane plan is safe, he would have closed a few stations near his home. This little nugget also makes me wonder if the closing decisions have a racial bias to them. Every one of these neighborhoods is predominantly white. Nutter and Ayers are African-American. I'm not saying race was definitely involved, but it makes for an interesting question.
In a sane world, this would be the death knell for Nutter's re-election campaign. But this is Philadelphia, and in a few years Nutter will be re-elected in a landslide.
"Town needs an enema!" - The Joker
Topics: Philly |